I actually have a lot of stuff to talk about that I find interesting, fascinating, what-have-you. Let's break it down into guild raiding and making money/pugging, shall we? We shall!
Guild Raiding
This week was awesome for raiding because of one simple reason. My RL friend the resto druid came back on Wednesday. We agreed I'd do healing for this reset so she could get her healing legs back under her and learn how we do stuff on heroic and what the changes are for heroic modes.
Then, armed with the 15% buff, we proceeded to ruin Lower Spire (we still have a lot of trouble on Deathwhisper on heroic, but to be fair, a lot of people were still learning that fight). The most notable moment was that, while mind controlled on Deathwhisper, I chucked a Hammer of Wrath at my RL friend and killed her and proceeded to get teased about it for the rest of the night.
Reactions:
RL friend: "omg mad you killed me! :("
Priest: "rofl! judas!"
Holy Paladin: "omf maf!" (yes, we were still in combat, can you tell?)
RL friend to other RL friends: "[my real name] just killed me! totally smacked me down!"
After the fight:
Holy Paladin: "mad nice hammer of wrath on [RL friend] there earlier btw!"
OT: "nice welcome back to your friend!"
It was amusing.
Anyways! We got Saurfang down in 5 Marks of the Fallen Champion which was SO nice. Way to go, DPS boost! Looking at the WoL for that fight, only one DPS was under 10k DPS (sitting at 9k) and everyone else is between 10k and 14k. Comparing this with my own DPS in ICC with the 15% buff, which hit 8k on Festergut, it's kind of mind-blowing how much of a difference the gear really does make. I don't really notice a lot of difference in my healing as I go through ICC every week, even when I get an upgrade. It must be nice to see the DPS increase as a DPS class, though.
Anyways, Wednesday was heroic Lower Spire and heroic Dreamwalker. Boy, did we mess that up. Previously, we'd waited for heroism until about 82%, but we recognized that was WAY too late, last week. In that we hit heroism and like, 10 seconds later, the boss was healed to full. So, last week, we decided we'd stop taking portals and call for hero at 75%.
WAY too early. We were healing for nearly two minutes after hero expired.
We're thinking one more round of portals after 75% ought to be a nice inbetween.
It would also be useful if I had noticed that I'd been put into combat while swapping my Glyph of Seal of Wisdom for a Glyph of Seal of Light. But I didn't notice, since I was also doing healing assignments at the time. I went in with my spellpower set and Seal of Light up and didn't realize until after the raid, when I went to switch the glyphs back, that I'd never made the switch in the first place. /facepalm
Thursday saw us without our regular resto shammy and without our regular disc priest, so we were a little light on healing and that meant no heroic Sindragosa attempts. Shucks. :P (I really loathe that fight with everything I am.) We got Blood Prince Council (almost got it on normal before we realized it wasn't on heroic!) and BQL pretty easily. Actually, both kills, while one-shots, were messy as hell. I feel like my RL friend the resto druid might have reason to think the healers suck. :P Shadow Prison killed a LOT of people. I think part of the issue there was that I kept the regular holy priest as holy to help with raid healing rather than as disc to help with raid mitigation. Lessons for next week, I guess.
Rotface was messy, too. Hell, all of Thursday was messy. One wipe and a kill on Rotface. 3 wipes and a kill on Festergut. Must remember to assign SIDES to the healers because after 2 wipes, I realized both resto druids (assigned to healing the raid, primarily the ranged) were both on the same side. /facepalm
Then, because we lacked the healing for Sindragosa, we played with heroic Putricide. We got him to 40% after a handful of attempts and were getting the hang of the Unbound Plague, too. Still, we're planning to hit him up after Sindragosa, I think. We just have a lot more time poured into Sindragosa and, with the buff, ought to be able to get deeper into P3.
Speaking of Sindragosa… AVR is basically cheating. Look at this.
That's our layout. So when you get a mark on your head and you're going to get the frost tomb on you, you run to the corresponding mark and stand on the little orange circle in the center of it. Pretty simple. The big circles (which, my guildies hastened to mention, look like parts of the female anatomy. :P) are for frost tomb positioning in P3.
Another look at the mark positions, from above.
So yeah, that's hax. And I'm not really sure how I feel about it. I mean, being able to paint on the game world is really nice and isn't it really just something we've done with in-game tools thus far? Warlock teleporters? Flares? Elune Stones? What's the difference between this and those?
The difference, in my mind, is that this is not something that comes with the game. This is an addon that someone developed with this purpose in mind. It's not something the developers of the game foresaw (I don't think). I would NOT be surprised if AVR is blocked somehow.
Boss mods work with the game. It makes emotes more noticeable. It times abilities for you so you're not sitting there with a stopwatch the way you did for Core Hound respawns in Molten Core. All the information boss mods give you are available through the game itself. But this doohickey works separately from the game. It allows players to start dictating information to other players that are strategy-based, not encounter-mechanic-based. Does that make sense?
It's the difference between telling someone to run left and telling someone to run to that particular spot on the ground that is NOT visible in-game without use of the mod.
I think that's where I have problems with it as a raider. As a raid leader, GOOD LORD, where was this two years ago!? haha. :) Seriously, though, I like to think that I have a fairly firm grasp on what the developers of the game want us to do. I don't think they want us to skip three of the four trash packs on the way up towards the tunnel in the Pit of Saron. They definitely don't want us to try to do the Lich King encounter in Heroic Halls of Reflection from behind. I'm kind of hoping they don't want us to ignore Light Vortex entirely and heal through it by stacking in the doorway of heroic Twin Valks.
I don't think this mod is in the spirit of the game that the developers had in mind. That said, I'll use it 'till it gets banned or my guild no longer requires it. But I'll feel dirty about it! ;)
Tonight, we're looking at Sindragosa and I guess maybe Putricide if we get Sindragosa down or if we have unexpected healing absences.
Making Money/Pugging
I've been bad. I've spent so much money in the last couple of weeks and a lot of it is due to just plain laziness on my part. On Saturday, I was at 4800g on my bank toon, with probably another 800g spread out on different toons.
Considering I had 15k a couple weeks ago, this was unacceptable. I decided to spend yesterday making money.
First up, I took 6 Cardinal Rubies and cut them for the AH. I made a ton of Runescrolls of Fortitude. I hauled out some of the BOE Christmas pets that I hadn't used and had been waiting to sell. Then I did some dailies at the Argent Tournament on Kurn. Finally became a Champion of Stormwind (I stopped doing anything AT-related with just one more day left for the Champion of Stormwind achievement!), did a bunch of the dailies and got The Bread Winner which totally got me by surprise!
I bought a Teldrassil Sproutling since I realized I had more than 40 Champion's Seals and there were no others on the AH, so I bought that and put THAT on the AH for 300g.
I traded in some Triumphs for more gems and cut those, too. I also did my random heroic on all but one toon. (On my druid, I got Oculus, to which I said no thanks. Later, I got to try to heal a fail H HoR run, which fell apart… then I got tapped to tank it on my third attempt at the random heroic — which went well!) I did my cooking daily on both Madrana and Kurn, fishing daily on them both as well. I also got my weekly (Marrowgar) done on Kurn because I pugged an ICC 25 and we went through Lower Spire (couldn't down Festergut because people were dumb) and, as you may have seen by now, I got my bow!
Once just about everything had sold, I had 6600g or thereabouts. Not too bad! From 4800-6600? Excellent.
And then I saw someone in trade talking about a GDKP TOC25 run that would be happening in the next 20 minutes or so.
What is a GDKP run?
I'd heard of these, but never participated before. Basically, every item is up for bids, with a minimum. Bids are made publicly in raid chat. At the end of the run, the proceeds are split among the raiders who lasted 'till the end.
Kurn may be kickin' it in some sweet 264 gear, including the new bow, but a lot of the gear is still sub-par. Like trinkets. Like my melee weapon. Plus, I didn't actually HAVE the TOC 25 achievement, which makes me look like a moron when trying to get into pugs. (I'd previously gone as far as Anub and then there was total raid failure.)
So. I indicated my interest to the person organizing it. I got a whisper back saying to ask for an invite at 12:15am (my time). So I repaired my stuff, sent myself 5000g of that 6600g, just in case something AWESOME dropped, and headed to TOC.
I decided that there were three items I was actually interested in, plus maybe I would try to snag a Trophy of the Crusade so I could get another piece of 245 T9. (Already had 245 gloves from Koralon.)
The items were:
Lupine Longstaff – compared to the Orca-Hunter's Harpoon, it had more agi, more armor penetration, less crit (ugh, for haste!) and less hit, which is nice, because I've got a stupid amount of hit. Drops off Twins.
Archon Glaive – clearly better than the Lupine Longstaff; no haste but crit, still more armor pen. Drops off Anub'arak.
Obviously, I was in the market for a new melee weapon.
The other item I was looking at bidding on was, no surprise here, Death's Verdict. I decided that, if it dropped, I'd go as high as 2000g on it. It drops off the Twins as well, so it was going to be exciting to see the loot off those bosses.
At 12:15, I whispered the guy in charge, got my invite and after about 20 minutes of fiddling with the groups and everything, we were finally ready to go.
I was not prepared for the amount of money that was spent on even the first boss. 500g was the minimum but the Trophy went for 1500g. I resigned myself to not buying a trophy. :P
Satrina's Impeding Scarab dropped off the Faction Champs. I have that trinket on Madrana for her tanking set. I got it for 2 DKP with my guild. Someone in the run paid 3000g for it.
I was suddenly sure that 2000g would not be enough for Death's Verdict, if it dropped.
The Twins died easily (I deterrenced Light Vortex! Go me for remembering how to play my class!) and though there was no Death's Verdict, there was the Lupine Longstaff.
I figured I'd bid 500g, since it had dropped and there was no guarantee that the glaive would drop off Anub.
No one bid against me. Grats me! It's not often I get to upgrade a bow AND a staff in the same day.
Anub'arak died and the Reign of the Unliving dropped, which set someone back 3400g. No glaive, so I was very satisfied with my purchase of the Lupine Longstaff.
Throughout the run, there were updates posted in raid of how much had been spent on each boss and the last update included the 1500g spent for the "goodie bag", which consisted of the skins, the patterns, the Crusader Orbs and the Abyss Crystals (4) from the run. The updates added up the total pot and the breakdown per person. Here's the final breakdown.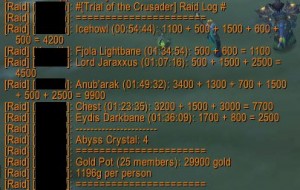 So, I paid 500g and got 1196g for a total of 696g in profit, not to mention the gold from the bosses.
All told, I finished the day with 7700g in my bank, with a few hundred spread out over various toons. I got a new bow, I got a new staff, Frost Emblems, Ashen Verdict rep, a bunch of new achievements and had a lot of fun.
It's never a bad day when you make about 3000g and get new gear. :)