A few weeks ago, I got myself into an Onyxia pug of 30 people and the Dragonstalker's Helm dropped. I rolled a 94.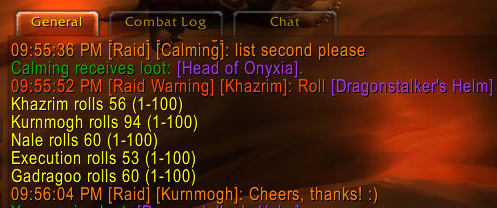 So I decided I should probably get a helm enchant. With Zul'Gurub out, there are some pretty great helm enchants that require a Voodoo Doll for your class, as well as a Primal Hakkari Idol, and then you get Falcon's Call (for a hunter). I mean, that's freaking sweet. Alas, a Primal Hakkari Idol drops only from Mandokir and Jin'do, both of which aren't exactly the most easily accessible bosses in ZG. It's not like Venoxis or even Jek'lik.
As a temporary enchant for what is probably the best helm I'll ever have in this game, I decided to go with the +8 agility enchant.
However, as a bit of a noob back in Classic, at least when it came to enchants and such, it wasn't until last night that I fully understood what a pain in the ass it was to get an arcanum for your helm or legs. Someone was in Ironforge selling the application of an arcanum for 250g. I was like, hah, screw that, so I embarked on the adventure of finding out everything I needed to know to get my own.
My final thoughts: 250g is a reasonable price for all the nonsense I had to go through.
First, I had to get a Libram of Voracity. These are world drops from mobs that seem to be 50+ or thereabouts. So naturally, I hit up the Auction House and dropped 90g on one.
Then, I had to go talk to a dude in Burning Steppes. At Morgan's Vigil? No. At the tiny cave in the northern central cave, Mathredis Firestar. Doing this basically shows me what I need to get to turn in the libram for one of the Lesser Arcanums of Voracity. You can get +8 to agi, int, strength, spirit or stam.
What I needed was a Black Diamond, 4 Whipper Root Tubers and 4 Crystal Forces, in addition to the libram. I got the diamond for like 60s on the AH and I knew Whipper Root Tubers were found in Felwood, but I had no idea what a Crystal Force was.
Fun fact, after doing the Power Crystals quests at Marshall's Refuge in Un'Goro Crater and then finding all the pylons, you can turn in 10 Green Power Crystals and 10 Blue Power Crystals for 6 Crystal Forces at the Eastern Pylon.
This took an exorbitant amount of time and running around. I had to run back and forth probably about 8 times because I didn't read ahead and didn't realize I had to finish all of the quests in order to get access to the exchange function on the Eastern Pylon. Finally did that, plus collected all of the 20 crystals I needed and finally got the Crystal Forces. Whew.
Then it was off to Felwood!
I had to do quests for Maybess Riverbreeze in southern Felwood. Specifically the Cleansing Felwood quest. This involved running my ass up to northern Felwood, killing 15 warpwood elementals (thankfully it's a 100% droprate) and then running my ass back down to southern Felwood.
Now, luckily, while I was levelling, I'd already collected 20x Patch of Tainted Skin, as a skinner. This allowed me to turn in 5 of them at a time for 2x Cenarion Plant Salve each turn-in thanks to the Salve via Skinning quest.
At that point, it was like, great! Almost done!
Except then you have to find a Whipper Root plant, either corrupted (which you can cleanse with your salve) or already cleansed. I ran all over the damn map until I found this map:
http://www.blizzardguides.com/whipper_root_tubers.html
Killed a few felstalkers and finally was able to loot a cleansed Whipper Root plant and thankfully it gave me all 4 Whipper Root Tubers that I needed.
Armed with my Crystal Forces, Whipper Root Tubers, the Black Diamond and the libram, I made my way back to Burning Steppes to hand in the quest and receive my Lesser Arcanum of Voracity.
What a process.
Now, to be fair, most of the issues I encountered were because I had skipped quests when I was levelling there. So next time (on my paladin), I won't skip them. But that was still a major pain in the ass. As I ran up and down Felwood or around and around Un'Goro, I was just thinking to myself "250g is a freaking bargain, this is awful".
Worse, there are other kinds of arcanums that require slightly (or very) different things.
So if you can't get a hold of a Primal Hakkari Idol for your ZG enchant, then you probably want to do the digging through the quests on Wowhead to see what's needed for your arcanum of choice. But I promise you, if you see someone offering 250g in trade, it may well be worth it instead of the pain if you haven't done all the quests. (Assuming you have 250g. I have like 2500g. I really should have done it.)